Strolling Magic on the Metra Railroad>
BIO

Terry Murphy
Professional Entertainer

Master Of Ceremonies, Sleight Of Hand Artist, Mentalist, Illusionist, Headliner, Featured Performer, Keynote Speaker, and "Chicagoland's #1 Magician" as announced live on WYKT 105.5 FM, are just a few titles Terry Murphy has earned from his many years in show business. His individualistic dedication to the "art of magic" has rewarded him with awards of merit and achievement. He is one of the most popular full time magicians in the Midwest. Terry's philosophy of not having enough hours in a day in which to work and, if you do anything-make it 100%-give the audience their money's worth are constant priorites. Another driving force within this personality is his logic that "some people young and old alike have never seen a magician. If I am that lucky one, I believe that I must prevail or else all hope will be lost for those who follow in my footsteps."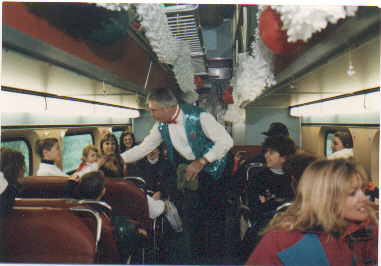 Business Review - The Sentinel, Thursday 8/16/2001

THE MAGIC & ILLUSION of TERRY MURPHY

Now you see him, now you don't.
Kids of all ages enjoy the Magic & Illusion of Terry Murphy.
The Shorewood magician has been performing his magic for over 20 years. After years of intense study and rehearsal, Murphy said, "I felt it was time to introduce my education in the art form to the general public."
Murphy performs close-up/strolling magic, stand-up magic, stage magic and illusions. His family entertainment is suitable for birthday parties, school assemblies, preschools, fund-raisers and festivals.
He also uses magic in themed performances such as motivational/educational; anti-drugs, gangs and violence; environmental; and library programs.
In addition Murphy's magic can be tailored to a wide range of adult audiences at private parties, meetings, ad promotions or company picnics.
"I professionally manage to entertain all age groups with at least one form of my expertise,"said Murphy. "Children favor my stand-up magic and balloon sculpturing, where adults book my close-up/strolling magic capabilites.
He has appeared nationally on W.G.N. TV's "Bozo Show" and entertained tourists aboard the Royal Caribbean's "Nordic Empress" cruise ship and guests at the Marriott Resort in Maui, Hawaii. Murphy has also entertained rock music celebrities, Bon Jovi, and has performed at countless festivals throughout Illinois, Wisconsin, and Indiana.
To book a performance of the Magic & Illusion of Terry Murphy, Call or E-Mail us!
July 2006, 2007 January 2008


Terry received a telephone invitation in July, 2006 and Emails in July, 2007 and January 2008 from Simon Cowell's office, of Fox T.V.'s blockbuster hit show "American Idol" in Hollywood, to audition for the up and coming "America's Got Talent" Nationally Televised Broadcast